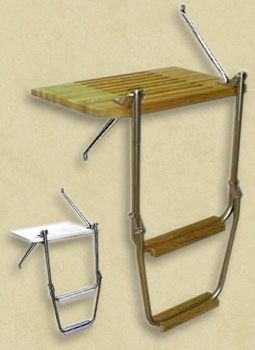 The Tail Gate is the most adaptable unit available. It can be fitted to almost any flat or slightly curved transom. It adapts easily to boats with modified or deep VEE hulls powered by a single I/O or outboard. It will work on many inboard runabouts and cruisers, too. The Tail Gate can be mounted either Port or Starboard and can be adjusted for transom rake angles of zero to 20 degrees. With both support arms Up there will be No holes below the water line – yet it can be mounted as low as 3″ above the water line.
The teak platforms are built of pressure laminated solid teak, 1-1/4″ thick. These laminations are glued together, but primarily held together with three inch stainless steel screws, staggered throughout the platform to hold each of these laminations secure.
The high-density plastic platforms are manufactured with an advanced, UV-radiation stabilizer package designed to resist discoloration, brittleness and chalking. These platforms have a specially textured surface for mar-resistant performance. The Support Systems are 7/8″ (.049) polished Stainless Steel. The system includes all necessary fasteners and mounting bolts. The transom ends of the stainless support beam tubes are die-formed and pierced for bolting directly to the transom.
A Mini Transom Deck 24″ Wide by 20″ Deep
The Tail Gate Platform Only
TG-1
With Single Drop Step Ladder
TG-1-A
With Double Drop Step Added
TG-1-B