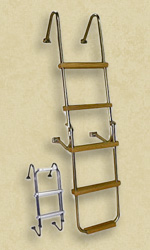 Newly Developed Transom Entry System – The Escaladder
The line sketches below show the most common transom profiles and the ways in which the ESCALADDER can be mounted. For simplicity only the fixed mount section is shown.
The unique lower arm extensions and adjustable upper mounting arms make it possible to fit these units to a wide range of inboard, I/O and outboard powered boats with transom freeboard of 16″ to 48″ and rake angles of 5 to 15 degrees. A long, three step Swing Down section, two steps on the EL-16 and EL-20, assures enough depth under water for safe and easy use. The Swing Down Section is held Secure in the upright position by a Draw Latch designed for convenience and durability.
All models can be made instantly removable without tools by using four Quick Release clevis pins. This feature will be of great advantage on a boat with fitted storage or dock cover – or for trailering – or for winter storage. All models of the ESCALADDER can be used on Fresh or Salt water. The mounting fasteners (which are supplied) are 18/8 stainless steel; the mounting fittings are stainless steel; the steps are Burma teak – or high density PLASTIC – all aimed at delivering the most corrosion resistant unit possible.
*Please specify Teak or Plastic steps when ordering.