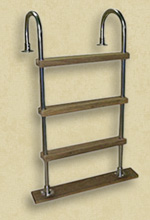 Deck or Cockpit Ladder
For easy return from transom platform to cockpit or deck. The HR ladder has a 1″ OD stainless tube frame assembled with teak or plastic steps. Hardwood dowels are pressed within the full length of the side tubes for added strength. A 30″ teak or plastic plank is provided as a mounting base to bridge slotted areas in the platform. Stainless fasteners are supplied for the plank as well as the stainless fittings. The hook top is available in either 8″ low profile (as pictured) or 18″ rise to provide a balancing hand hold over an existing taffrail. The length of this ladder is measured from the top fitting to under the lower plank. Fitting to fitting length can be adjusted approx. 2″, plus or minus from the stock sizes shown. Special sizes and shapes can be quoted to sketch.
*Please specify Teak or Plastic steps when ordering.
High Rise Deck or Cockpit ladders
Model No.
No. of Steps
Length
w/8″ hook
w/18″ hook
HR-1
3 steps
30″ long
HR-2
3 steps
36″ long
HR-3
4 steps
42″ long
HR-4
4 steps
48″ long
HR-5
5 steps
54″ long
HR-6
5 steps
60″ long