From the Water to the Platform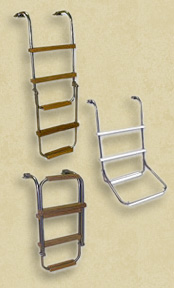 Model No.
No. of Steps
Length
SL-0
1 step
18″ long
SL-1
2 step
24″ long
SL-2
3 step
30″ long
SL-3
3 step
36″ long
SL-4
4 step
48″ long
SL-5
5 step
60″ long
NOTE: Stainless steel quick release pins are available to make all ladders instantly removable without tools. Add $9.05 per ladder.
w/ Folding Section for Extra Projection
Model
Description
Overall Length
SL-0
Single Drop step
30″ long
SL-1
Double Drop step
36″ long
SL-2
Single Drop step
42″ long
SL-2
Double Drop step
48″ long
SL-3
Double Drop step
54″ long
High-density plastic steps available.
*Please specify Teak or Plastic steps when ordering.

The Swing-Down Swim Ladder is self-storing against the transom. On many hulls it can serve as a cockpit access ladder in the up or storage position. The Stainless Steel frame features a tremendously strong assembly of polished 18/8 tube, 7/8″ within 1″ at major strain points, and hardwood dowels reinforcing the full length of the side tubes. The ladder pivots from storage position against the transom into place over the platform edge, extending into the water on stainless pins in heavy stainless steel fittings. The one piece tubular assembly cannot twist. Steps are laminated Teak or high-density plastic 1-1/4″ thick, built to carry scuba diver and gear. The SL Ladder can be adjusted for practically all width platforms. We should be advised if the platform is less than 18″ wide or over 24″.